YouTube-toppers: Romantische filmquotes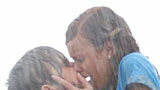 In elke romantische film zit wel een beroemde liefdeszin. Wij vrouwen dromen ervan dat zoiets ooit tegen ons gezegd wordt. Ze.nl heeft de tien meest romantische quotes voor je op een rijtje gezet, om heerlijk bij weg te zwijmelen!
The Twilight Saga: Eclipse (2010)
?Isabella Swan, I promise to love you every moment of forever.?
-- Edward (Robert Pattinson)


Dear John (2010)
?Two weeks together. That?s all it took. Two weeks for me to fall in love with you.?
-- Savannah (Amanda Seyfried)


Pride & Prejudice (2005)
?If, however, your feelings have changed, I will have to tell you: you have bewitched me, body and soul, and I love ? I love ? I love you. I never wish to be parted from you from this day on.?
--Darcy (Matthew MacFadyen)


The Notebook (2004)
?So it?s not gonna be easy. It?s gonna be really hard. We?re gonna have to work at this every day, but I want to do that because I want you. I want all of you, forever, you and me, every day. Will you do something for me? please? Just picture your life for me? 30 years from now, 40 years from now, what?s it look like? If it?s with that guy, go. Go! I lost you once, I think I can do it again. If I thought that?s what you really wanted. But don?t you take the easy way out.?
-- Noah (Ryan Gosling)


Love Actually (2003)
?But for now, let me say - without hope or agenda, just because it?s Christmas and at Christmas you tell the truth - to me, you are perfect. And my wasted heart will love you. Until you look like this (picture of a mummy). Merry Christmas.?
-- Mark (Andrew Lincoln)


Notting Hill (1999)
?I?m also just a girl, standing in front of a boy, asking him to love her.?
-- Anna (Julia Roberts)


City of Angels (1998)
"I would rather have had one breath of her hair, one kiss from her mouth, one touch of her hand, than eternity without it."
-- Seth (Nicolas Cage)


Titanic (1997)
?Winning that ticket, Rose, was the best thing that ever happened to me? It brought me to you. You must do me this honor, Rose. Promise me you?ll survive. That you won?t give up, no matter what happens, no matter how hopeless. Promise me now, Rose, and never let go of that promise.?
-- Jack (Leonardo DiCaprio)


Jerry Maguire (1996)
?You had me at hello.?
-- Dorothy (Renée Zellweger)


Dirty Dancing (1987)
?I?m scared of walking out of this room and never feeling the rest of my whole life the way I feel when I?m with you.?
-- Baby (Jennifer Grey)


Wat is jouw favoriete romantische filmquote?